Pitkällisen metsästyksen, ja sen jälkeen odotuksen - postista saapui 4 päivää sitten Iso-Britanniasta paketti kobrakasveja (Darligtonia)! :)
Ne ovat ainoastaan Kaliforniassa korkeilla viileillä rinteillä kasvavia lihansyöjäkasveja. Metsästyksen perusperiaate on lähes sama kuin tötterölehdillä (Sarracenia), paitsi että tämä laji, joka on muuten sukunsa ainoa, on kehittänyt omalaatuisen keinon.
Sen ansan suu on kuin kobran pää ja ansan suusta roikkuu kaksi viiksikarvannäköistä lisäkettä. Kärpänen kiipeää viiksiä pitkin ansan päähän makean, kasvin erittämän meden tuoksun perässä. Ansan suu on kuitenkin katiskamainen sisäpuolelta, eli kuva kertoo: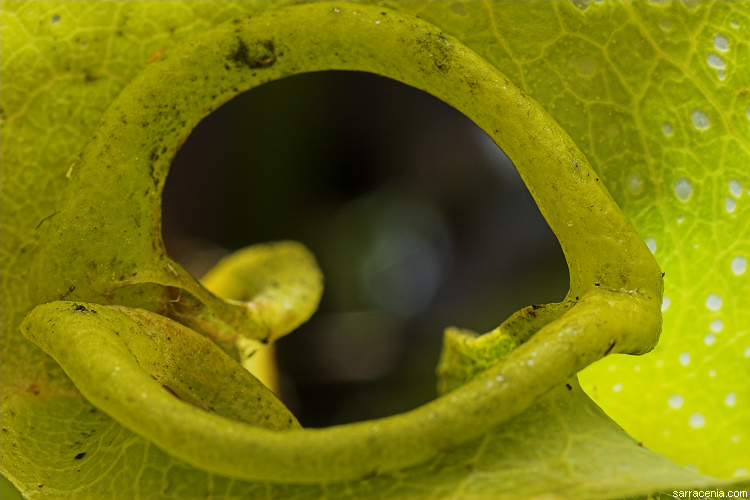 Ansan loppupäässä, joka johtaa alaspäin on läpinäkyviä, pigmenttömiä "ikkunoita". Kärpänen luuleekin ansan sisällä ollessaan lähtevänsä lentämään "vapauteen" katsellessaan ikkunoiden läpi tulevaa valoa. Se kuitenkin erehtyy ja putoaa kaaressa ansan pohjalle jossa on alaspäin osoittavia karvoja.
Siellä on ja pysyy ja kasvi sulattaa ruokansa! :P
No mutta niitä kuvia!
_______
I bought a pair of D. californica and I got them 2.5. It was a bit difficult to find a person that could sell me a few. But I was lucky and got these form the UK! :--) Never have any of these so Im excited to see how they will grow here up north.