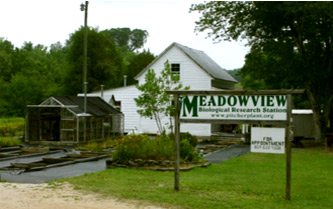 Totta tosiaan mun pitäisi lauantaina suunnata nokka kohti AMERIKKA! Juttuhan on se, että mulla alkaa koulu olemaan sen verran lopussa jo tässä vaiheessa vuotta että hain vapaaehtoispalvelukseen ulkomaille ja nakki napsahti mun kohdalle.
Menen Meadowview Biological Research Station nimiseen tutkimuskeskukseen auttelemaan Amerikan luonnonvaraisten lihansyöjäkasvien kasvattelussa Paikka sijaitsee Virginian osavaltiossa. Heillä on jenkkilässä maan kansallinen tötterölehtikokoelma ja he palauttavat lihiksiä takaisin luontoon ja opettavat ihmisiä lihisten saloista.
Mä meen sinne 90 päiväksi eli ajaksi 2.4.- 30.6. Vähän harmittaa kun menee Vappu ja äitienpäivä puhumattakaan Juhannuksesta ohitse, mutta jos ei nyt lähde reissuun niin ei sitten koskaan.
Lennän ensin Köpikseen ja sieltä Washington D.C. Pikkasen jännittä äkun en ole paljonkaan matkustellut yksin. Vaihtolennolle ehtiminen jännittää koska aikaa siihen on vain 45 minuuttia. Lisäksi tietysti jänskättää usan rajalla kun ne taitaa kysellä kaikenlaista että miksi tulen tänne ja mitä teet, missä asut ymm. Mulla on vapaaehtoisviisumi että sen puoleen kaikki paperihommat on tehty ja maksettu.
Mää tulen päivittelemään tätä blogia koska onneksi heiltä löytyy nettiyhteys hahah.
Pitäkään kädet ristissä!!! :-)
Really. My U.S.A journey will start at the end of the week as I wil fly to the States on Saturday. I'm going there to carry out a voluntary service at
Meadowview Biological Research Station. I will live there upcoming 90 days and help with their endeavor to protect local bog habitats including Sarracenia and carnivorous plants! Their mission is to preserve and research current few populations and restore plant species that have disappeared nor about to disappeear due buiilding and drainage.
I will be living at their research station from April to late June. I fry through Copenhagen and I'm a bit afraid how canging planes will go as well as how they will question comes at the U.S Borders.
Keep your thumbs up that I will get a safe and happy flight(s) as well as journey! I am still going to update my blog here so keep an eye on it :-)